The Bray will be awarding ten $5,000 fellowships along with ten short-term summer scholarships in 2013!
Resident Applications due March 1, 2013.
"Being able to provide this generous financial support to each and every resident artist helps the Bray fulfill its mission and reinforces its commitment to furthering ceramic art."–Steven Young Lee, Resident Artist Director
Click to jump to:
Why Apply?

|

Residency Opportunties

|

Fellowships

|

Summer Scholarships

|

Questions?


Why apply for a residency at the Bray?
What defines a Bray residency and the reasons for doing one turn out to be as varied and unique
as the individuals involved. Some artists come to develop a portfolio for graduate school, some
use their residency as a transition from school to establishing their own studio and others see it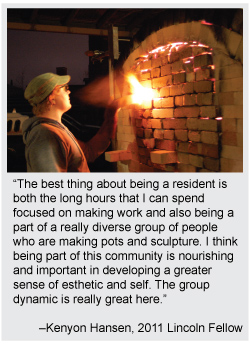 as a chance to escape from daily routine and recharge their creative enthusiasm. For all artists, it is a period of
time to focus intensely on their work, explore new ideas and techniques, and push their artwork to new levels.
Probably the most important reason for coming to the Bray is the opportunity to work within a community of artists actively creating art. Artists from around the world come to work at the Bray, bringing with them a vast range of experiences and diverse esthetics approaches.

New residents are chosen once a year in March by the Bray's director and two additional rotating jurors. The selections are based on the quality of the work, its artistic merit, and the diversity and experience of the prospective group. The Bray studio program is minimally structured, with no formal critiques or syllabi unless initiated by the artists. Resident artists are expected to be self-motivated and help out with various tasks around the Bray.

Residency Opportunities
There are three general residency options at the Archie Bray Foundation–long-term fellowship (1-2 years), short-term summer resident between July and October (3-4 months) or short-term resident between October and June (1-3 months). On a regular basis there are a total of 10 long-term residents and 10 short-term summer residents.
Studio space is provided free to all residents. Resident Artist expenses include the cost of materials and firing but are subsidized by the Bray and offered at reduced prices. Residents are responsible for their own housing and living expenses while in Helena, but are given use of the community kitchen space in the Resident Center.

For more images and information on the resident facilities click here or check out our web site at www.archiebray.org/residence_program.

Fellowships
Each fellowship awards $5,000 to support a long-term resident artist who demonstrates exceptional merit and promise. The Fellows are expected to embrace the Bray experience of community and creative exchange, and have the op
portunity to focus their attention to produce and exhibit a significant body of work during their residency.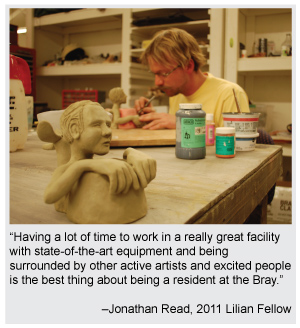 Currently at the Bray, there are six private individuals who have each committed to providing fellowships for long-term residents. With the help of a grant received in 2012 from the Windgate Charitable Foundation, four more fellowships will be awarded, allowing all ten long-term residents to receive fellowship support.

To apply for a fellowship check the appropriate box on your Residency Application form and include a letter of intent stating you artistic goals and interest in the Bray Fellowship program.

To find out more about the fellowship program click here or go to our wesbite at www.archiebray.org/residence_program.

Summer Scholarships
The Bill and Stirling Sage Scholarship fund
was established by Evelyn Sage in honor of her late husband Bill and their son Stirling. The Bill and Stirling Sage Scholarship awards an annual $800 scholarship to a promising young artist between the ages of 18 and 35.

The Eric Myhre Scholarship was established in 2002 by Tootie Myhre in honor of her late husband. The award provides a $750 scholarship to a summer resident artist of any age who demonstrates exceptional merit and promise.

In 2012, the Windgate Summer Scholarships were established. Eight short-term summer residents will be awarded $700 to help cover expenses during their time at the Bray.

To apply for the scholarships include a letter of intent in your application stating you artistic goals and interest in the Bray resident program.
To find out more about the scholarship program click here or go to our website at
www.archiebray.org/residence_program.

Questions?
If you have any questions about the Bray's resident or fellowship opportunities please contact Rachel Hicks, Director of Programs and Communications at 406/443-3502 ext.13 or at rachel@archiebray.org.

For technical support the online application contact support@slideroom.com.

Your completed application must be received on or before
March 1, 2013.
The Bray is a nonprofit educational organization dedicated to the enrichment of the ceramic arts, located at 2915 Country Club Ave. in Helena, just 1/3 mile west of Spring Meadow Lake.



This project is supported by the National Endowment for the Arts, and in part by the Montana Cultural Trust, the Montana Arts Council, the Bray Business Alliance and the friends and members of the Bray.